Concrete Works: South Jersey's Premier Concrete Contractors
When you only want the best concrete company in South Jersey
Hire Concrete Works
New Jersey homeowners seeking to remove or replace their cracked sidewalk, driveway, or patio needn't look further than Concrete Works for the superior solutions they need. We are proud to be South Jersey's premier concrete contractors, delivering the most service-oriented solutions in the region. Call our team at (856) 448-4206 to request an estimate today!
With a full-time, in-house estimator and unparalleled engineering, our concrete contractors deliver a faster, simpler service experience from start to finish. Here's what you can expect from working with our team:
Our dedicated office and support staff is always available to answer your call and coordinate next steps.
We have a full-time estimator on staff, allowing us to provide quicker estimates without sacrificing quote accuracy.
After scheduling installation, our crews will work tirelessly, finishing faster than any other contractor in the area.
Using our online customer portal, you'll be able to track progress on your project for 100% transparency.
Expert Concrete Services
Hire Expert engineers
Using expertly engineered materials and advanced installation techniques, our concrete contractors proudly deliver a broad range of top-quality solutions, including: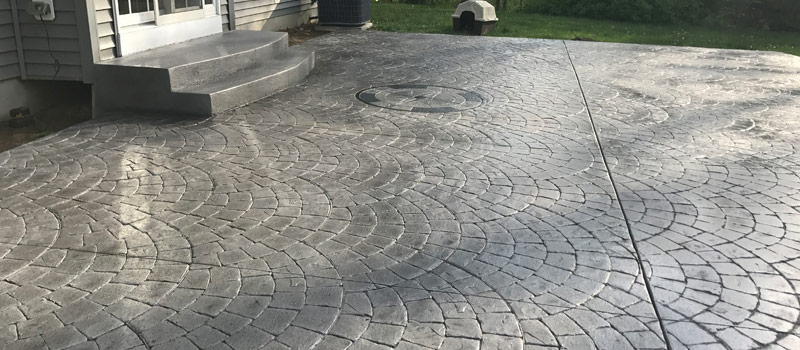 Concrete Driveways
Have your damaged, dilapidated driveways repaired and repaved with help from our concrete contractors.

Stamped Concrete
Transform your outdoor living space with completely custom decorative stamped concrete solutions.

Porches & Patios
Our construction team can pour, mold, and shape cement to bring your vision of the perfect backyard patio to life.

Sidewalks & Walkways
If your sidewalks are cracked and uneven, keep your family and neighbors safe by installing brand-new concrete sidewalk.

Concrete Repair
We offer concrete repair alternatives to full replacement options for fixing cracks and rising slabs.
Experience the difference of true concrete experts
Remarkable Before and After
New Jersey Local Concrete Projects
See firsthand why South Jersey families turn to our concrete contractors for help. Explore our recently completed projects below:
Our Service Area
Providing Concrete for all of South Jersey
We are proud to provide top-quality concrete services to families throughout the South Jersey region. If you live in Southern NJ and are seeking a knowledgeable concrete contractor, don't hesitate to reach out to our team for an estimate today.
Pemberton
Tavistock
Pine Valley
Fieldsboro
Washington Township
Wrightstown
Hi-Nella
Audubon Park
Bass River Township
Newfield
Chesilhurst
Woodland Township
Laurel Springs
Brooklawn
Gibbsboro
Wenonah
Beverly
Swedesboro
Riverton
Lawnside
Woodlynne
National Park
Woodbury Heights
South Harrison Township
Springfield Township
Merchantville
Bordentown
Oaklyn
Medford Lakes
Elk Township